Recreation Announcements & News
Mission Statement
Welcome to the Somers Recreation Department official website! The mission of the Somers Recreation Department is to enhance the quality of life of our residents and strengthen the bonds of community by offering diverse and affordable recreational and cultural programs in welcoming and safe parks and recreation facilities. We strive to make fitness, health, and wellness a priority for people of all ages. We aim to create a happy and healthy community where residents come together to play, learn, and live.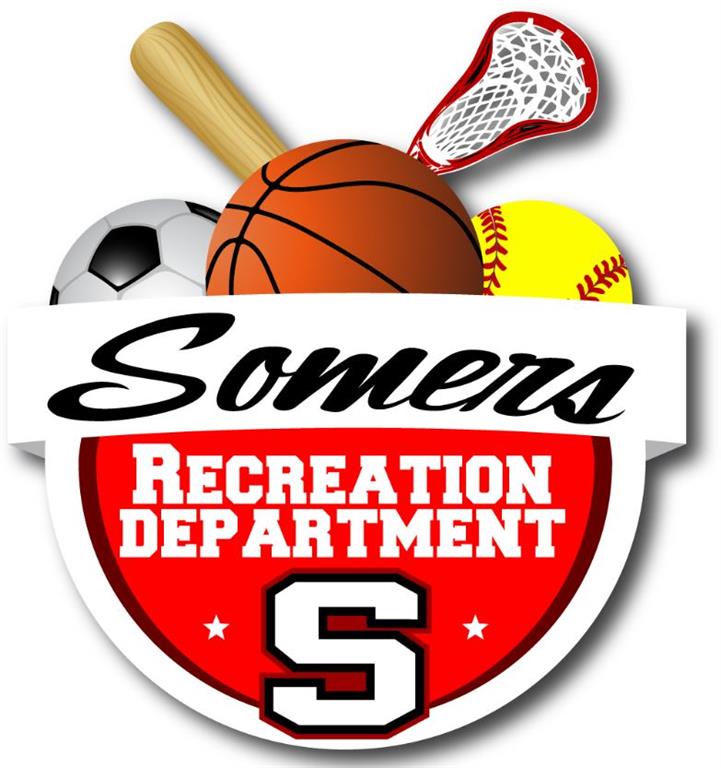 2019-20 Youth Basketball
Somers Youth Basketball is for players in Grades 1 through 8. All experience and skills levels are welcome! The Somers Youth Basketball season features three separate divisions:
Instructional
The Instructional Basketball program runs Saturday mornings at Somers Elementary School beginning on Saturday, December 7. The girls instructional session will begin at 9AM and boys will begin at 10AM.
Who: Boys & Girls Division
Age: Grades 1 & 2
Rec
The REC Basketball program is designed to emphasize active participation, health and wellness, and fun! The program will begin with player evaluations on Monday, October 28 OR Tuesday, October 29. There are program options available for boys and girls in grades 3 through 8. Families can expect one practice per week beginning in November and one game per week, on Saturday's, beginning in January.
Who
: Boys & Girls Division
5th & 6th
Travel
The travel basketball program is a more competitive basketball option. Players will tryout for teams beginning the week of Monday, October 21. Tryouts will be held on: 10/21, 10/22, 10/24, 10/25. Players must attend two tryouts in order to be eligible to to play. There are program options available for boys and girls in grades 5 through 8. For more information on the travel basketball program, including important dates and times, view an informational flyer HERE

.
Families can expect practices per week beginning in November and 2 games per weekend beginning in December.
Who: Boys & Girls Teams
Teams: Girls 5/6, Girls 7/8, Boys 5, Boys 6, Boys 7, Boys 8
2019-20 BASES Programs at SES
B
efore &
A
fter
S
chool
E
nrichment
S
ervices
Somers Recreation Department is proud to offer BEFORE & AFTER School child care options at Somers Elementary School through the BASES Program.
NEW
Before School Program start time of 7:00AM beginning in August! Openings available for the entire 2019-20 school year. Register today to ensure your spot!
Registration is organized on a month by month basis. The registration deadline for a given month period is the 15th of the previous month (ex: The October month period registration deadline is September 15). Please have the dates that you plan to have your Student(s) attend the program ready at registration.
View a flyer for the programs
HERE
.
Join us for engaging and fun mornings and/or afternoons in the 2019-20 BASES Program!
Somers Youth Flag Football
Registration for the 2019 Somers Youth Flag Football season is underway! The program is for participants in grades 3 through 8. The league is structured in two divisions: Juniors (Grades 3 - 5) & Senior (Grades 6 -8). Players are assigned teams and play games under the lights at Field Road Park on Tuesday and Friday evenings during the fall.
The Somers Youth Flag Football league offers players the opportunity to enjoy the game of football in a non-contact setting.
The Somers Youth Flag Football league is a co-ed youth flag football league. Boys and girls of all competitive levels are encouraged to join us for an exciting and fun league. The registration deadline for the 2019 season is Monday, August 26.
After School Golf
The After School Golf Program is back for a second year! Somers Rec is partnering with Cedar Knob Golf Course and Pleasant View driving range to bring back this popular after school program for middle school students. The After School Golf Program is a 6-week program with sessions on Tuesdays and Thursdays (players participate in one).
Registration is limited to 18 participants. Transportation is provided from Mabelle B. Avery Middle School to the golf course. Each session includes golf etiquette, driving range, and on-course instruction as well as games and competitions. Golf clubs will be provided as needed.
View a program flyer
HERE
.
The After School Golf Program is an introductory program for girls and boys in grades 6 through 8 of all skill and experience levels.
TOT Soccer
Tot Soccer is the perfect opportunity for you to bring your little one out to get introduced to the game of soccer! The program will include children learning basic techniques of soccer and give them the opportunity to meet new friends all while having a blast!
TOT Soccer is for program participants ages 3 & 4. The program runs Saturday mornings at Sokol Road Soccer Field. TOT A runs from 8-8:45am & TOT B runs from 9-9:45am. The program dates are as follows: 9/7, 9/21, 9/28, 10/5, 10/12.
View a program flyer
HERE.
2019 Summer Programming Schedule
The Somers Recreation is proud to share the 2019 summer camp schedule. Registration for all programs are now open. If you have any questions please contact the Somers Recreation Department at 860-265-3840. Please see the table below for all camp listings:
Somers Day Camp
The Somers Day Camp offers endless opportunities for your child to have a fun and memorable camp experience. Our day camp program is designed to spark your child's imagination, grow new friendships, and assist them in discovering new talents each and every day. With creatively-planned activities, campers enjoy summer to the fullest extent. With weekly field trips and themes, your child(ren) are sure to have a great time! All children are grouped by grade and all activities are age-appropriate. Camp is held at Field Road Park in Somers.
Camp runs Monday-Friday for 8 consecutive weeks beginning June 24. *Note: Week 2 will be 4 days due to the July 4 holiday. Campers ages 5-12. Have a child interested in attending camp who is older than 12? Contact the Somers Recreation Department and ask about the Counselor in Training Program.
Regular camp hours are 8:30am-4:00pm. We offer extended care hours before and after camp: Beforecare from 7:30am-8:30am& Aftercare from 4pm-5:30pm. Early registration discounts and late fees apply. Discount for Somers residents!
Per Connecticut General Statute 19a-77 we are required to disclose that our programs are not licensed by the State Office of Early Childhood. As such, we are ineligible to receive Care4Kids funds.
See the table below:
Small Fry Camp
We invite our youngest campers to Small Fry Camp! Campers will experience different themes and days filled with songs, games, snacks, arts & crafts, and indoor & outdoor activities. Join us at Mabelle B. Avery Middle School, Monday through Friday from 9am-noon for the 2019 Small Fry Camp! Camp will run for 5 consecutive weeks beginning July 8. Weekly themes including CIRCUS, SPACE EXPLORATION, BEACH FUN, TROPICAL VACATION and FARM ADVENTURES! Our camps are reasonably priced, expertly staffed and all staff are certified in CPR and First Aid. Most importantly camp is FUN! Camp is for children ages 3 to 6. Campers must be toilet trained. View a program flyer HERE.
Discounts for Somers residents!
"For the Love of the Game": Wiffle Ball Camp
Everyone's favorite backyard game comes to Field Road Park in Somers! Round up your friends for a week of Wiffle Ball. The sight of the white plastic ball knuckling through the air. The sound of the yellow plastic bat as it makes contact with the ball. The celebration of the game winning hit! This NEW camp is open to kids entering grades 4-10. The week includes daily games and culminates with a home run derby and playoff tournament. Camp will run from June 24 through June 28 from 9am-11am at Field Road Park.
SOMLAX Lacrosse Camp
Ken McCarthy, Varsity Lacrosse Coach at SHS for over 20 years, and his staff will provide a safe environment where players of all ages and abilities can have fun and improve their game by learning fundamental skills and advanced tactics and techniques of lacrosse. Each camper receives a Camp Jersey! Camp is held at MBA Fields for players entering grades 4-9. Camp will run from July 8 to July 11 from 8:30am-11:30am.
Summer Art Camp at Somers High School
The *
summer
favorite*
Art Camp is back for 2019! Our SHS instructors will return to Somers High School to offer their beloved program for 4 consecutive weeks beginning July 8.
Join Somers High School teachers Mary Curran, Sarah Burda, and Kyle Kipfer, and special guest teacher Ryan King, who will be offering personalized, creative, and FUN art instruction for all ages: ELEMENTARY (Grades 2-5), MIDDLE (Grades 6-9) and ADULT (entering grades 10-Adult).
This program offers a variety of unique art disciplines to cater to all artists, of any age! Morning (9-11:30am) & Afternoon (12-2:30pm) sessions available. Students taking morning and afternoon classes will have a half hour supervised lunch break.
Prices and dates for each class listed below. Full class descriptions are available by clicking HERE or by clicking the PROGRAMS tab and selecting a class:
DISCOVER GOLF CAMP at Cedar Knob Golf Course
Is your child interested in learning a game he/she can play for a
lifetime
from a
professional
? Somers Rec is partnering with Cedar Knob Golf Course to offer the "Discover Golf" Camp. Learn the fundamentals of golf from a PGA Professional while making new friends! The DISCOVER GOLF CAMP at Cedar Knob Golf Course will run Tuesday, July 16 through Friday, July 19 from 9AM-Noon daily.
Discounts for Somers residents AND siblings!
Somers Spartan Basketball Camp
The Somers Spartan Basketball Camp will return for a third summer in 2019. Keep improving on what you learned during the winter season! The program includes daily skill development to improve your game and increase your confidence, as well as daily games. There will also be a unique lecture each day by a variety of different industry professionals. You never know who might show up! Current and former SHS players will comprise our staff for this fun and informative camp.
Somers Spartan Basketball Camp will run from July 22 through July 26. Camp runs Monday-Friday: 8am-2pm at Mabelle B. Avery Middle School. View a program flyer HERE.
Discounts available for siblings!
PLAY-WELL LEGO™ STEM CAMPS
Somers Recreation is excited to partner with Play-Well TEKnologies to bring back a pair of stimulating and engaging camps. Explore concepts in physics and mechanical engineering while playing with your favorite creations. Children will be given instruction, design challenges, and competitions appropriate to their abilities with electronic LEGO™ Technic components. Each participant will build their own project with help from the instructor. They can then decorate, develop, battle, race, and explore their creation.
Play-Well STEM Camps will be offered Monday-Friday from July 29 through August 2 at Mabelle B. Avery Middle School.
Intro to STEM with LEGO Materials (AM:8:30-11): Let your imagination run wild with tens of thousands of LEGO parts! Build engineer-designed projects such as: Trains, Helicopters, Treehouses, and Beam Bridges. Design and build as never before, and explore your craziest ideas in a supportive environment. Ages 5-6.
STEM Challenge with LEGO Materials (PM: 12-2:30) : Level up your engineering skills with Play-Well TEKnologies and tens of thousands of LEGO parts! Apply real-world concepts in physics, engineering and architecture through engineer-designed projects such as: Gear Cars, Gondolas, Merry-Go-Rounds, and Scissor Lifts. Design and build as never before, and explore your craziest ideas in a supportive environment. This is a new curriculum, separate from what was offered last summer. Perfect for returning and new builders! Ages 7-12.
IncrediFlix Movie & Animation Camp
Are you
Hollywood'
s next star actor, director, producer, or editor? Find out right here in
Somers
with the IncrediFlix Action Flix & Imagination Flix camps at Mabelle B. Avery Middle School! Somers Recreation is proud to be partnering with IncrediFlix to bring back this popular & exciting program. Students can participate in either camp- or both. Registration discount and lunch supervision provided to those who register for a full day!
This summer's movie & animation camps are for children ages 7-13 and will take place at MBA from August 12-16.
Action Flix will run in the morning with Minecract Movie Flix in the afternoon. Full day registration options available.
Action Flix (AM: 9-11:30) ): Use green screen, camera tricks, & special FX to create an action-packed live-action adventure movie! Collaborate with your group as you write, act, & direct in this INCREDIbly exciting camp where you'll be taught Hollywood stunts to thrill the entire audience. *Flix downloadable within a month after camp ends.
Minecraft Movie Flix (PM: 12-2:30): This camp is made for lovers of Minecraft, animation and stop motion alike! New for 2019, more set design features like flowing lava-rivers and flickering torches! Using stop-motion animation students will bring Steve, Alex, the creepers, and more to life in a movie they'll storyboard, shoot, and voice-over in age appropriate groups. *Flix downloadable within a month after camp ends.
Pickleball
The Recreation Department has Pickleball equipment available for use. If you are interested in getting a great work out while having some friendly competition, come try Pickleball. It is a fun game for all ages and all abilities.
Please call the Rec Department at 860-265-3840 to check availability. The equipment can be picked up at the Rec Department office located at 93 Egypt Road, Monday - Friday from 7am-4pm.
Kripalu Yoga
Join certified Kripalu yoga instructor Diana Gunther in a stimulating and fun class designed to strengthen, tone, increase flexibility, and improve the function of all body systems. You'll enjoy the benefits after your very first class. Easy to follow instruction & a down-to-earth atmosphere.
Who: All ages welcomed
When: Tuesday evening
Thursday evening
Saturday morning
Where: Kibbe Fuller Gym
Time: Tuesday/Thursday: 6:00PM & Saturday: 10:00-11:00AM
Contact Diana Gunther at dianagyoga@gmail.com for more information on program scheduling and pricing options.
Recreation Subsidy Program
The Somers Recreation Department, in conjunction with Somers Human Services Department, is proud to announce the new Recreation Subsidy Program. The Recreation Subsidy Program is available to Somers residents and is based upon Federal Poverty Guidelines. Applicants are eligible for the subsidy on a sliding scale.
Applicants should contact Christina Cenac in Social Services at 860-265-7551 to inquire about the Recreation Subsidy Program or to complete an application. You can view a Recreation Subsidy application
HERE
For complete information on the Recreation Subsidy Program, including the Somers Recreation Department camps eligible for the program, please click the Policy Page link
HERE.
Information on the guidelines used for subsidy eligibility & allocation can be found HERE.
Thank You
Somers Recreation Department would like to extend a sincere "thank you" to the hundreds of volunteers who contribute thousands of hours to help make recreation in Somers function and flourish. Somers Recreation Department programs and classes, our youth sports teams and leagues, and the outstanding special events offered in town are the result of community-wide assistance and support. Recreation in Somers is truly a collaborative effort, and the hard work of our community members results in outstanding and diverse recreational opportunities for our residents.
Refund Policy
The Somers Recreation Department will provide a full refund when a program is cancelled. All refund requests for a program that has not been cancelled must be submitted at least one week prior to the start of the program. Refunds will not be issued once a program begins unless there is an injury or illness which prohibits active participation in the program and is documented by a physician. No refunds will be issued without a Refund Request Form. If a refund is granted, the amount will be pro-rated to reflect the number of remaining days in the program from the date the Refund Request was submitted.